AFP Server comes with several preset programs, such as SendMail, Logging, PrintFile, UploadFile, CopyFile, and ConvertToPDF. These programs perform certain tasks as post-processing options. After your AFP doc is created the post-processing program is to be launched.
You can select the post-processing program from the drop-down list of Preset Program, and click Configure.. button to generate the Parameter line by setting up several options in the Configuration Dialog.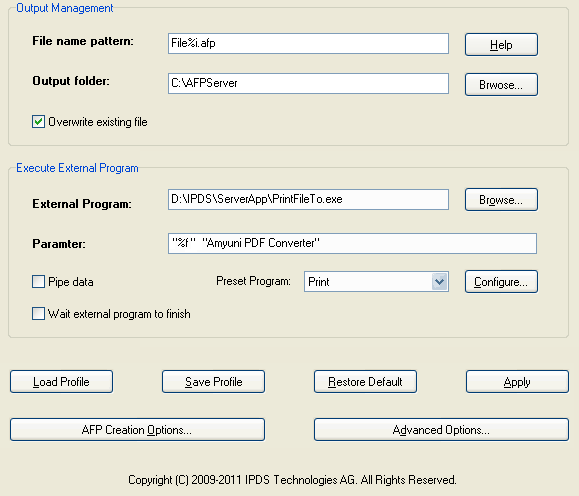 Examples:
SendEmail.exe -t recipient@company.com -s 10.20.30.40:465 -xu user -xp pass -a "%f" -u "subject" -m "Sent by AFP Server" -f sender@company.com
LogTo.exe %f "c:\test\myLogfile.txt"
PrintFileTo.exe %f "PrinterName"
FTPTo.exe %f "ftp.mycompany.com" /InitDir" "df" "pass" -DeleteFile
CopyFileTo.exe %f "C:\Destination Folder" -DeleteFile
ConvertToPDF.exe %f "c:\pdf folder" -DeleteFile